Wednesday, October 3rd, 2007
---
9:36 am
- Reila - Gazette
Sunday, January 21st, 2007
---
5:12 pm
Thanks to everyone here who came up to the show last night. That wasn't our biggest london turnout simply because of the short notice but it was certainly the best with so many of you singing along to Ballerina and Butterfly at the front.. you made my night xxxx

BTW, my current profile pic is courtesy of Uncle Nemesis :)
Friday, October 6th, 2006
---
10:40 am
- If you want to see us...
Thursday, October 5th, 2006
---
12:09 pm
- IMPORTANT: This Friday
*
I'm going to the following event plus Andy and Azy. We will have 1 or 2 spaces in the car and if there is more demand we can take up 2 cars and fit more people in!!

Let me know ASAP if you're interested. This should be great fun!!!



Dead and Buried
The Guardian
Pick of the week [clubs]
"Kitted out in the latest TopShop goth revival frock, got your Horrors hairdo and Barbara Daly kohl makeup tips? Walk the walk, then. Tonight is a Gothabilly and Horror Punk Special"



Friday 6th October:

"Gothabilly and Horror Punk Special" With DJ Cavey Nik and Djane Darlin' Grave , Djane Kerosene Deluxe plus guest DJ Polly Trauma from All Gone Dead.


"Tis a horror punk special which is kinda funny as I own zero horror punk and don't really care for what bats and zombies get up to in the middle of the night cus I am not 4 years old. However if ya like a good smothering of deathpunk with spotty idiots shouting about the apocolypse and how much they hate Thatcher then I might be able to provide a good night out for ya! ;-)" - [Polly Trauma]


We will be playing our usual unique mix of "classic" and "new century" Deathrock, Trad Goth etc. and will be paying special attention to some of the top quality Gothabilly and Horror Punk acts! You may hear bands such as: The Cramps, Misfits, Cult of the Psychic Fetus, Lucifer Star Machine, Devilish Presley, Black Cat Rebellion, The Other, The Spook, Ghoul Town, The Deep Eynde, The Rabies, Shadow Reichenstein, Psycho Charger, Antiworld etc...Plus CD release party for the new Ghastly Ones CD, "Target: Draculon"



We will have [limited] advance tickets available for;



http://www.dancefloorpoison.com/news.htm

The Rocket [London Metropolitan University]
166-220 Holloway Road
London N7
Tubes: Holloway Road/Highbury and Islington

caveynik@yahoo.com
07981 234335
22.30 - 04.00 [bar closes @ 03.00]
£6 / [£5 concs]
07981 234335 / caveynik@yahoo.com

"Great tracks, that one just *doesn't hear* elsewhere in the UK!" - Evening Standard
Friday, September 1st, 2006
---
12:05 pm
- RBK gig *THIS SATURDAY*
OK, here's the lowdown:

RazorBladeKisses
+
The Torpedoes
+
Department Factory
+
DJ Martin Oldgoth

THIS saturday (sept 2nd)
£5 entry
doors 7:30pm
Railway Inn, Winchester


It's Department Factory's debut gig, and birthday bash, plus RBK have new material and the fantastic Martin Oldgoth will be providing some DJing as well

Hope to see you all there
Thursday, August 24th, 2006
---
10:55 am
- calling all bands..
Yeah, well the ones on my friends' list!

Any bands out there who would like to play a gig at the railway inn, Winchester on 2nd of September?

RBK and Torpedoes are already on the bill but due to some unforseen circumstances the gig first got called off so Colt were told the gig wasn't going ahead and now they're no longer playing, which leaves to either find a band to complete the bill or call off the event.

Martin old Goth from Insanitarium si DJ'ing all night at this event. So if it goes ahead it should be a storming one :)

Let me know.
Tuesday, August 22nd, 2006
---
12:46 pm
- Toysoldier in Love
Singing and dancing, thinking and laughing
Plastic eyes melted there is nothing to see
Maybe I reach to the attic and find him
Sill wrapped in plastic and waiting for me

Years of love, years of hate tainted your face
What did you think I would tell you today
Lying in bed I can not reach the attic
somebody else wi[e his tears away


Away

You're in love but you lay on your grave
You're in love but there is nothing to say
You're in love but there is something you need
To keep the heart that was beating for her

one day

Now to tell the world your tale
I will sing this song everyday
Now the world was so so pure
With you lying dead on the moor
10:37 am
The gig went fanstastically well on Saturday. We sounded tight, the new songs sounded good and I got to say my story of the new song 'Toysoldier in Love'
on stage.

I'm really happy with the lineup now and also a bit of a talent block for writing new songs, things have changed now and we are writing some good stuff.

The new songs performed were 'Alice', 'Little One' and 'Toysoldier in Love'.
I like all 3 and feel very emotional performing all because of the lyrics.

Thanks to
kyra_cat and
secretia who came and got all dressed up for us. And also to Stewart, Phil and Ryan. And others who I forget their names. We all played our socks off on stage and some of you were singing along which was a treat :) you can see some pics on
secretia's journal.


Anyone likes to hear my toysldier story?

* OK here you go.. Toysoldier is in love with the girl who owns him, she is very cold one winter day. They're a very poor family. She is going to die and the only way he can save her in his mind is to make a little fire for her.. can you guess the rest?
Tuesday, August 15th, 2006
---
11:20 am
- RBK @ the railway this Saturday
Any of you coming to see us this Saturday? We're playing at the railway inn, Winchester and there is after gig party at our house and limited crash space :) let me know so I know how many want to stay etc.
Monday, August 7th, 2006
---
12:57 pm
- My birthday and new LJ!
Yay.. it's my Birthday today.. currently doing very well with presents and messages :)
I decided to re-vamp my LJ and upload new user pic.. trying to change the layout as well but not got very far yet!!


Have a great day everyone..
Sunday, July 30th, 2006
---
11:29 pm
- true blue :)
Thursday, July 27th, 2006
---
12:20 pm
- HAIR dilemma!!
Please help me my friends..
I'm having a hair dilema, which is I'm bored of my hair (suprise surpise)!! It's currently jagged fringe in pink and the rest is blonde.
It took me a year to get all of my hair blonde btw!!!

Now, I'm very keen on blue atm but not sure if blue/blonde combinatin will work.
I can do the front bit black again but I'm bore of the blonde/black combination.

I no longer like purple and green either :(

I have dark eyes and black eyebrows so not sure if blonde suits me now.. maybe I'm wrong..

HELP please.. shall I just dye my hair black again. Shall I add lots of brown and black streaks to my hair..
REd is also out cos it always get son my nerves... I've had pink in for a week and it is doing my head in :/


What do you think would suit me and my style?
Friday, July 14th, 2006
---
10:43 am
Yoo hoo..
I hadn't logged onto this for AGES!
How's everyone? Do you guys still remember me?
There has been to much going on to update but all and all it's been going great :)

Tell me something to amuse me :)
Friday, May 12th, 2006
---
12:50 pm
- lillies
New pic of me taken by Regis at Antilight camden

p_gotherina informed me on this pic which is also being featured on the slideshow of Antilight's myspace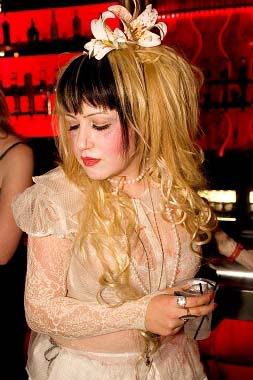 Monday, April 24th, 2006
---
11:51 am
- Deadfly Ensemble
Have a listen to songs on www.myspace.com/thedeadflyensemble

This is a joint project between Lucas (Cinema Strange) and Andi Sexgang.
The moods are very much French Noir and Tim Burton. I like their songs alot. Will be requesting that maybe at the next D&B if any of the dj's has got the cd.
1:33 am
- new piccy :)
One of my pictures from last night:

I look a bit moody ;)



(

click!Collapse

)
Friday, April 21st, 2006
---
5:51 pm
- Antilight
OK ..anyone interested in going to Antilight tomorrow??
me and andy are goin gand if anyone wants a lift, we're happy to give you a ride in our 7 seater galaxy!

Answers on antilight ticket..

For those who don't know the link to the event is:

Antilight at KOKO Saturday Apr 22
type: metal 10pm-late
prices: UKP8, UKP7 b4 11pm, concs UKP7, concs UKP6 b4 11pm, w/flyer UKP6
New goth and industrial night with DJs Angel (Inferno), Djane Darlin' Grave (Dead and Buried), Psyche (Dreadnought), Thunder (Kryptorium), Chris Damage (Strength Through Joy), Barbedwirekiss (Gossips), Catasha (Black Mass) and Chris Flatline (Cosey). Killing Miranda play live, supported by Avoidance Of Doubt.

KoKo is the former camden palace and it's beautiful.. have a look:


Wednesday, April 19th, 2006
---
11:08 am
- just wondering..
Is anyone here from Southampton going to come and support us at the gig in Winchester on 21st of May?

There are some people coming down from further out towns and can't get back after the gig to their homes cos we're doing a headline slot. Can anyone offer them a crash space around here?? maybe we could have an after show party??!!
any ideas?
Thursday, April 13th, 2006
---
10:33 am
- some new pics of rbk girls
Wednesday, April 12th, 2006
---
11:50 pm
- All Gone Dead
It is now looking very likely that I'll be attending the gig at the spitz this Friday to support all gone dead and see the rest of the bands.
If you're interested in sharing the ride give me a shout!